Unleash the Power of Gizzy: The Final Chapter of the Mimo Airdrop Frenzy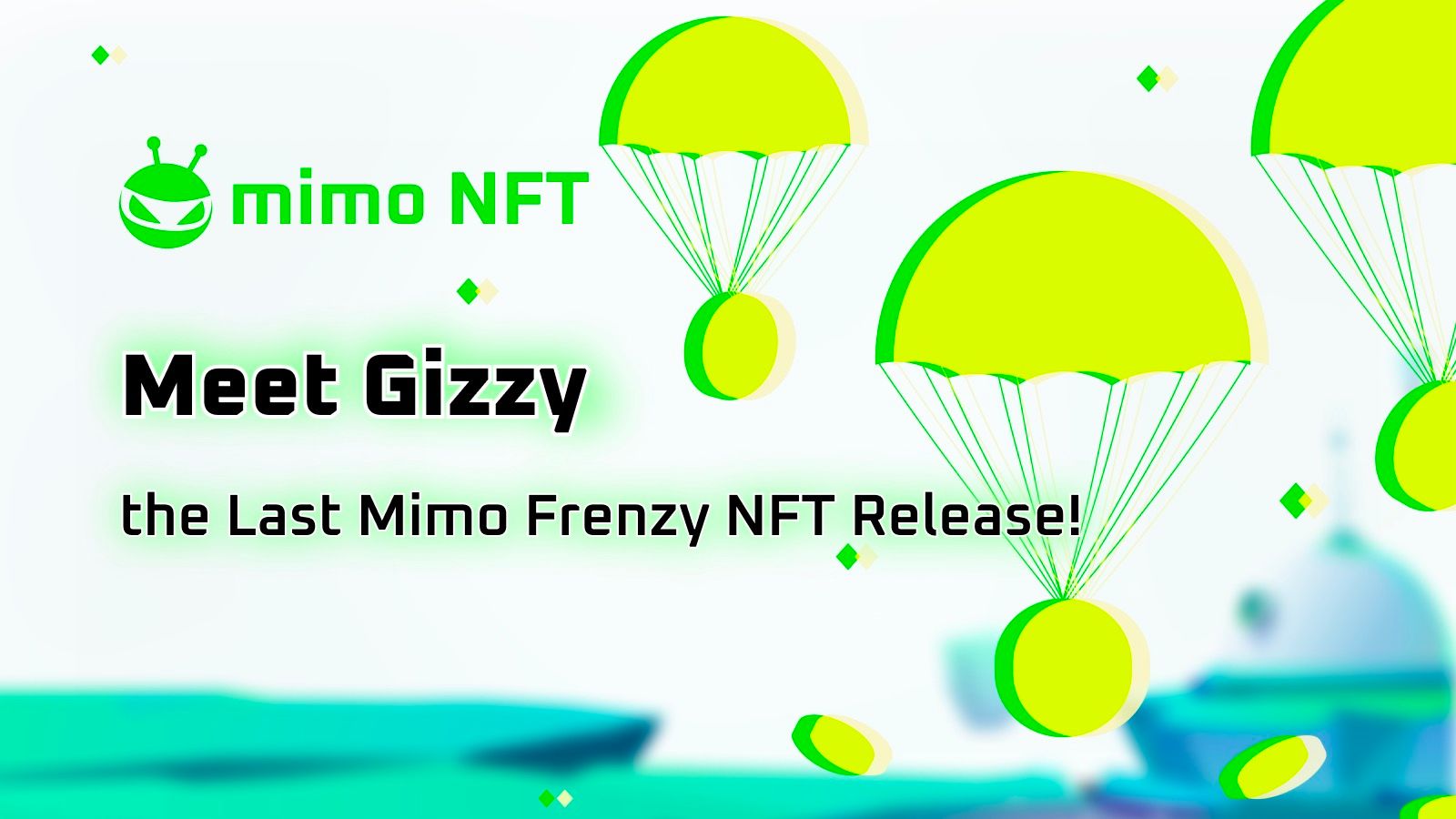 Greetings, Mimo enthusiasts! As we near the culmination of the exhilarating Mimo Airdrop Frenzy series, we want to extend our heartfelt gratitude to all the dedicated users who have wholeheartedly supported and participated in this thrilling adventure. Your unwavering enthusiasm has propelled the Mimo Airdrop Frenzy to remarkable success, injecting an unprecedented level of energy into the vibrant Mimo community. We extend a warm welcome to our new friends and offer congratulations to the fortunate recipients of the airdrop rewards.

Now, as we approach the final chapter of the Mimo Airdrop Frenzy with the release of the last NFT, Gizzy, we invite you to click on the link below for the latest information: https://mimo.exchange/activity/gizzy

Gizzy Timeline:
Release Date: June 26, 2023
Free Minting Phase:
From 10:00 AM UTC on June 26 to 4:00 AM UTC on June 29
Public Minting Phase:
99 IOTX/NFTs (with a maximum of 10 NFTs)
From 4:00 AM UTC on June 29 to 4:00 AM UTC on July 3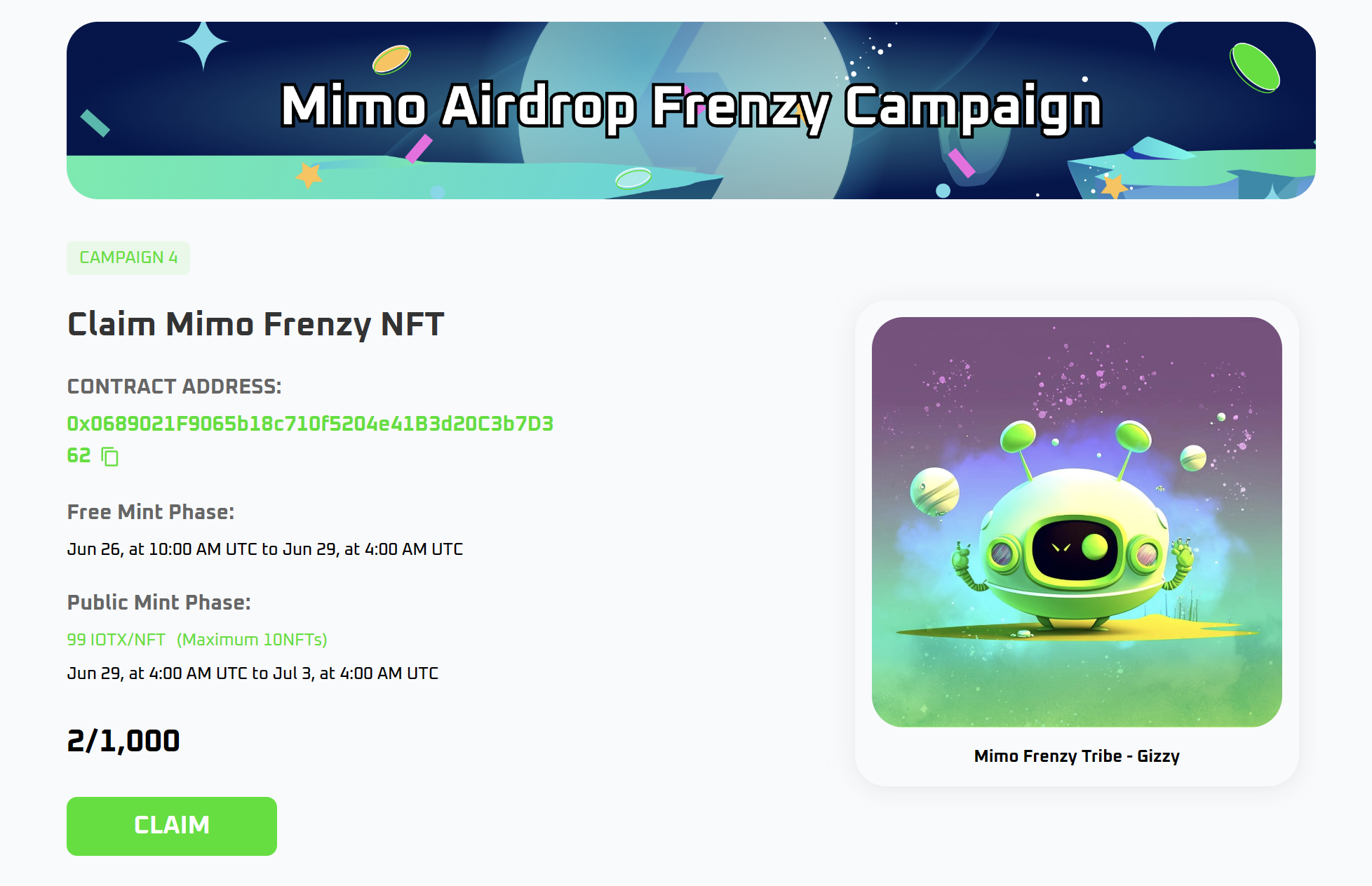 In the previous events, we introduced three adorable and lively sprites hailing from the Mimo tribe: Pippi, Bimby, and Albie. They have injected fresh vitality into Mimo, and we are thrilled to see that our community supporters have embraced them! Now, Gizzy, the final NFT in this series, awaits your ownership—don't miss out!

Furthermore, even though the Mimo Airdrop Frenzy is coming to an end, it does not mean it's over! We are excited to share with all Mimo supporters that users who hold Pippi, Bimby, Albie, and Gizzy in your collection will be able to combine these NFTs to get a brand-new, unique, and empowering NFT. We will soon reveal more details on this NFT and how to acquire it. Keep an eye on us!

So, don't hesitate—seize the moment and ensure that Gizzy finds its rightful place in your remarkable collection!
About mimo
mimo is a decentralized exchange (DEX) with automated liquidity on IoTeX. Instead of a centralized order book, mimo utilizes liquidity pools and automated market making (AMM) algorithms to connect buyers and sellers of crypto-assets in a decentralized fashion. Mimo allows anyone to trade or provide liquidity for various pairs of assets, where those that provide liquidity for a specific pool will share the transaction fees for trading.

Twitter: https://twitter.com/mimoprotocol
Telegram: https://t.me/mimogroup
Blog: https://mimo.exchange/blog
Email: [email protected]