mimo NFT Marketplace: A Revolutionary Platform for NFT Enthusiasts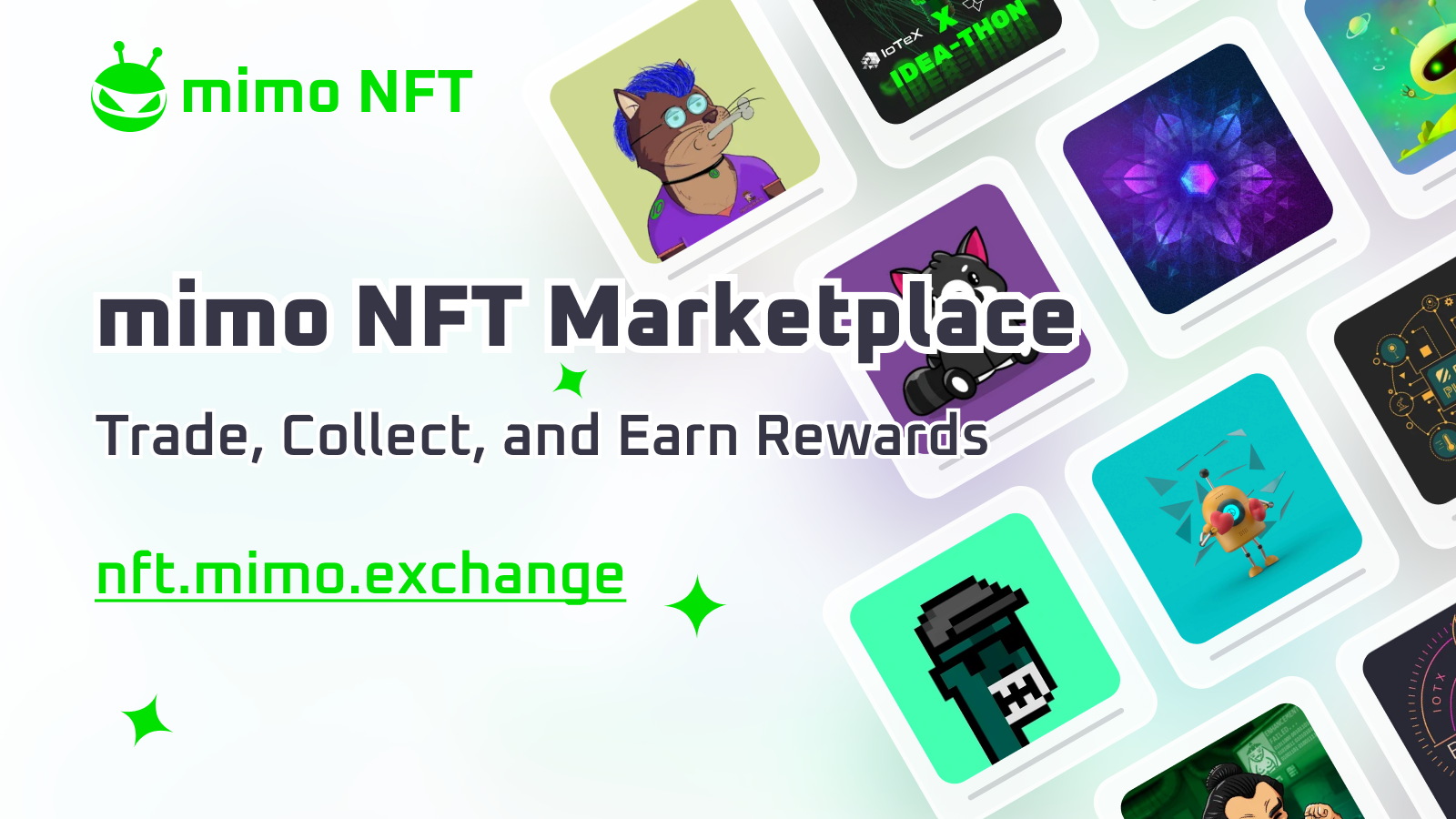 The demand for non-fungible tokens (NFTs) has grown rapidly in recent years, driven by a growing interest in digital collectibles, art, gaming, and music. However, the NFT industry currently faces several challenges, such as high transaction fees, slow transaction times, and a lack of user-friendly interfaces.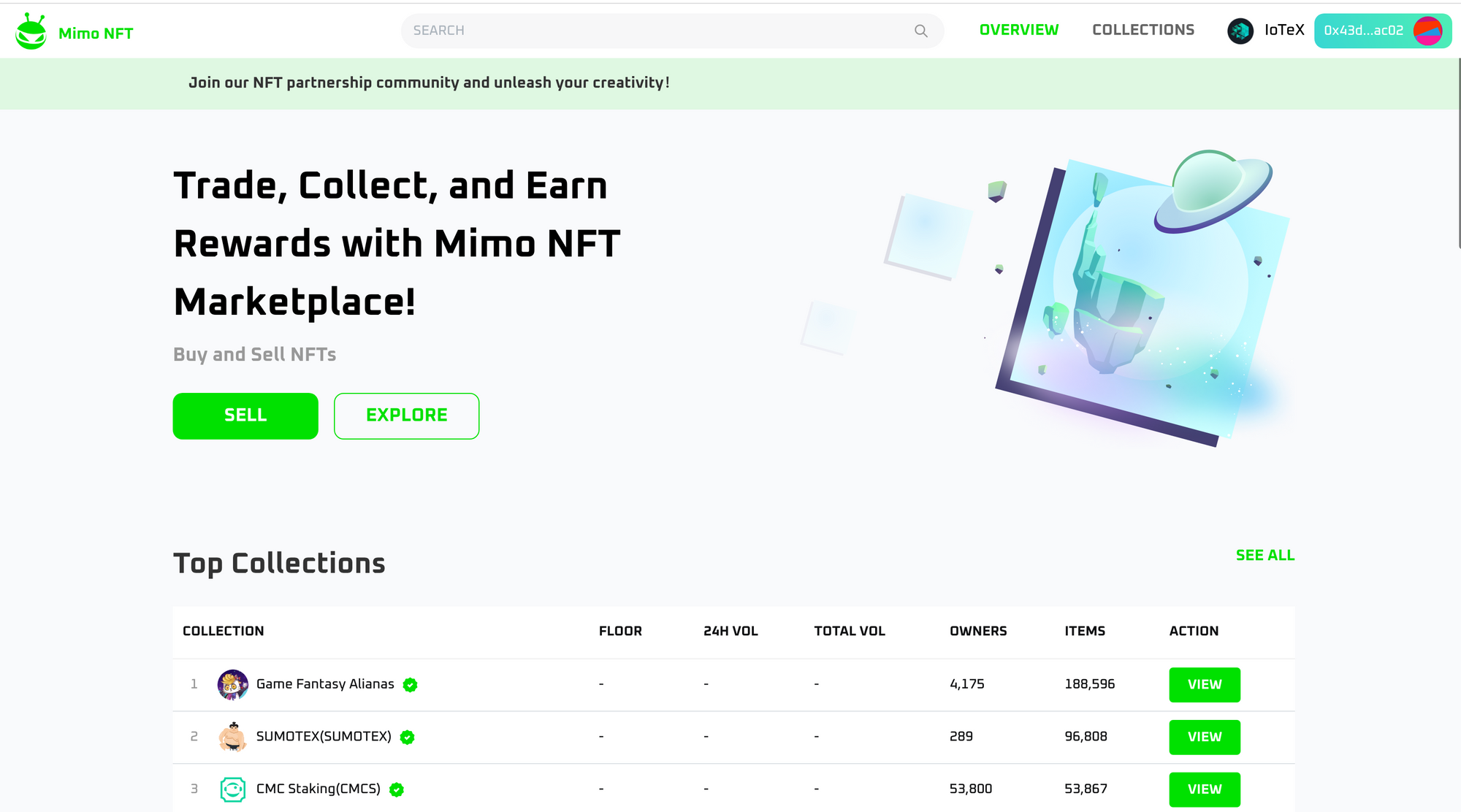 The mimo NFT marketplace provides a seamless and secure platform for buying and selling NFTs. With the rise of NFTs as a new asset class it became evident that there was a need for a dedicated NFT marketplace on IoTeX to support the growing demand for NFTs across various industries including DePIN, art, gaming, and music. Mimo boasts low transaction fees, short transaction times, and a user-friendly interface.
The mimo NFT marketplace platform has three core functions: basic transactions, creation of collectibles, and minting related functions.
Basic transaction: On the mimo NFT marketplace platform, users can easily buy and sell NFT, and the transaction fee only requires 1.5% of the transaction amount.
Create collections: Users can create their own NFT collections on the mimo NFT platform and sell them to other users or own their copyrights.
Minting-related functions: Users can mint their own NFTs on the mimo NFT marketplace and sell them for profit.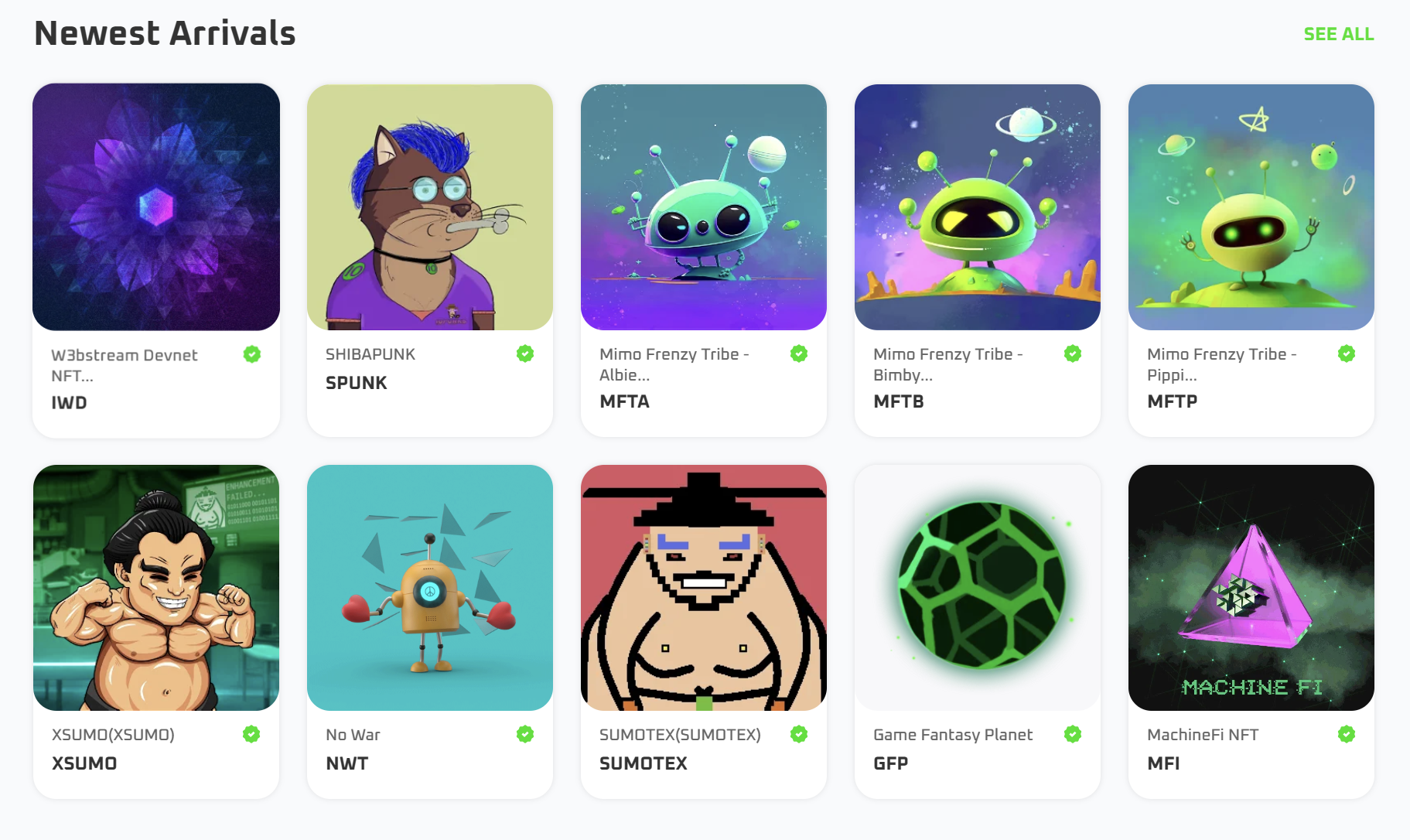 We welcome and encourage all creators to join us, but not all collections are allowed. Collections involving sensitive content will be hidden. Sensitive content includes, but is not limited to: violence, pornography, racism, terrorism... All collections must first be whitelisted before they can be listed. We are currently accepting applications from NFT collectors who wish to list their collections. If you want your collection to be featured on the NFT market, please join us👇
>>> https://forms.gle/tvZ5KT7fBDpk9uMU6
Super Discount: To celebrate the launch of mimo NFT marketplace, we are offering a special promotion. During the first month after the NFT marketplace goes live, all users will enjoy a 90% discount on the entire transaction fee, encouraging everyone to engage in affordable transactions. This limited-time offer aims to incentivize users to join the mimo community and experience the benefits of faster, cheaper, and more user-friendly NFT trading.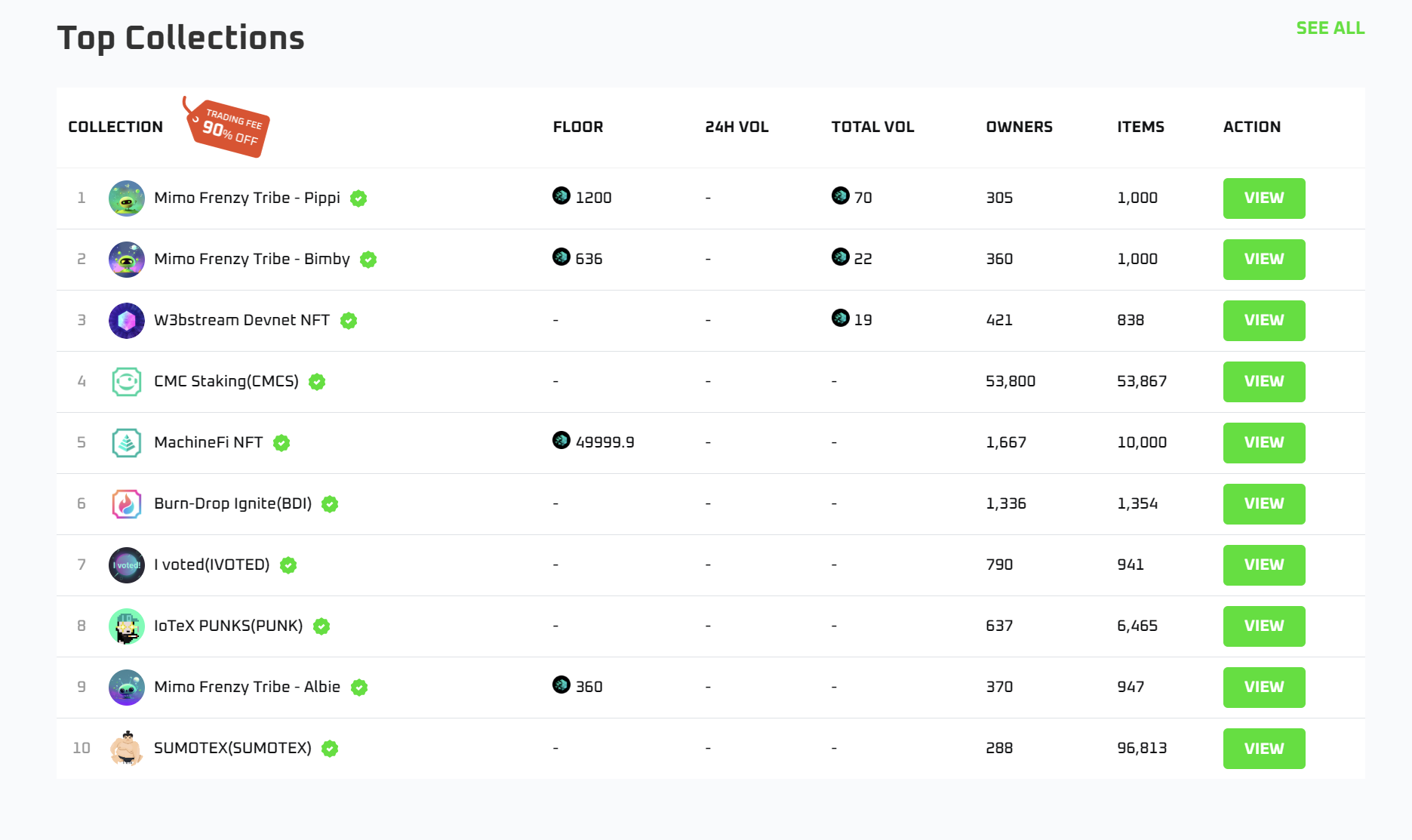 Furthermore, we are delighted to announce that mimo has partnered with well-known NFT and blockchain projects like Alchemy Pay, Port3, MGLand, StarCrazy, IoTeXShiba, etc., to create a joint marketing campaign. This joint marketing campaign will offer users exciting opportunities and rewards for participating in mimo's NFT marketplace.
During the launch event, users can look forward to various activities and giveaways, including limited edition NFTs, exclusive access to pre-released NFTs, and competitions. The mimo community will also have the chance to engage with our team through live AMAs, Q&A sessions, and beta testing opportunities.
In conclusion, the mimo NFT marketplace is set to revolutionize the NFT industry by offering faster, cheaper, and more user-friendly NFT trading. With a low handling fee of only 1.5% of the transaction price and exciting launch activities, mimo is the ideal platform for NFT enthusiasts to buy, sell, and trade digital assets. Join our community today and be part of the NFT revolution!
About mimo
mimo is a decentralized exchange (DEX) with automated liquidity on IoTeX. Instead of a centralized order book, mimo utilizes liquidity pools and automated market making (AMM) algorithms to connect buyers and sellers of crypto-assets in a decentralized fashion. Mimo allows anyone to trade or provide liquidity for various pairs of assets, where those that provide liquidity for a specific pool will share the transaction fees for trading.

Twitter: https://twitter.com/mimoprotocol
Telegram: https://t.me/mimogroup
Blog: https://mimo.exchange/blog
Email: [email protected]