Boosting Crypto Experience: Mimo Protocol and ioPay Deep Collaboration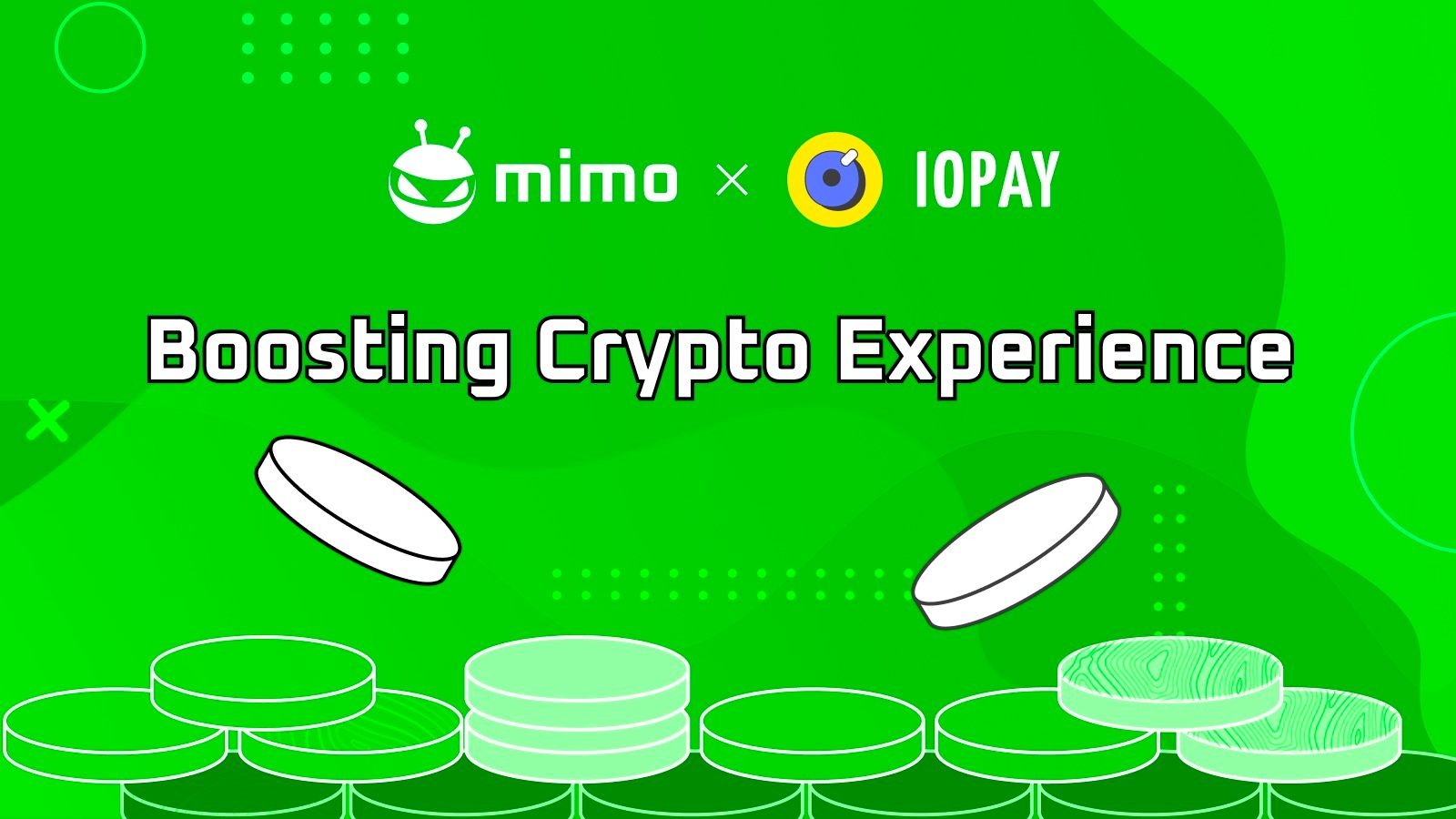 We are thrilled to announce a deep collaboration between Mimo Protocol and ioPay, aimed at enhancing the transaction and usage experience for ioPay users in crypto ecosystem projects!
Mimo Protocol is a decentralized exchange with automatic liquidity on IoTeX, providing powerful tools for managing crypto assets. With direct access to Mimo Swap in their wallets, ioPay users can easily and quickly exchange cryptocurrencies within ioPay using Mimo's automatic liquidity pool. This integration has been a huge success, providing ioPay users with a seamless way to manage their crypto assets.
Mimo Protocol is a decentralized exchange with automatic liquidity on IoTeX, providing powerful tools for managing crypto assets.
Moreover, Mimo also supports users to purchase IOTX directly with credit cards, which has also been integrated into ioPay. We'll continue to seek high-quality entry/exit ramps to provide faster access for users.
Tip: New iOS users can enter the command "iopay://browser_enable" in the Browser page to enable all features.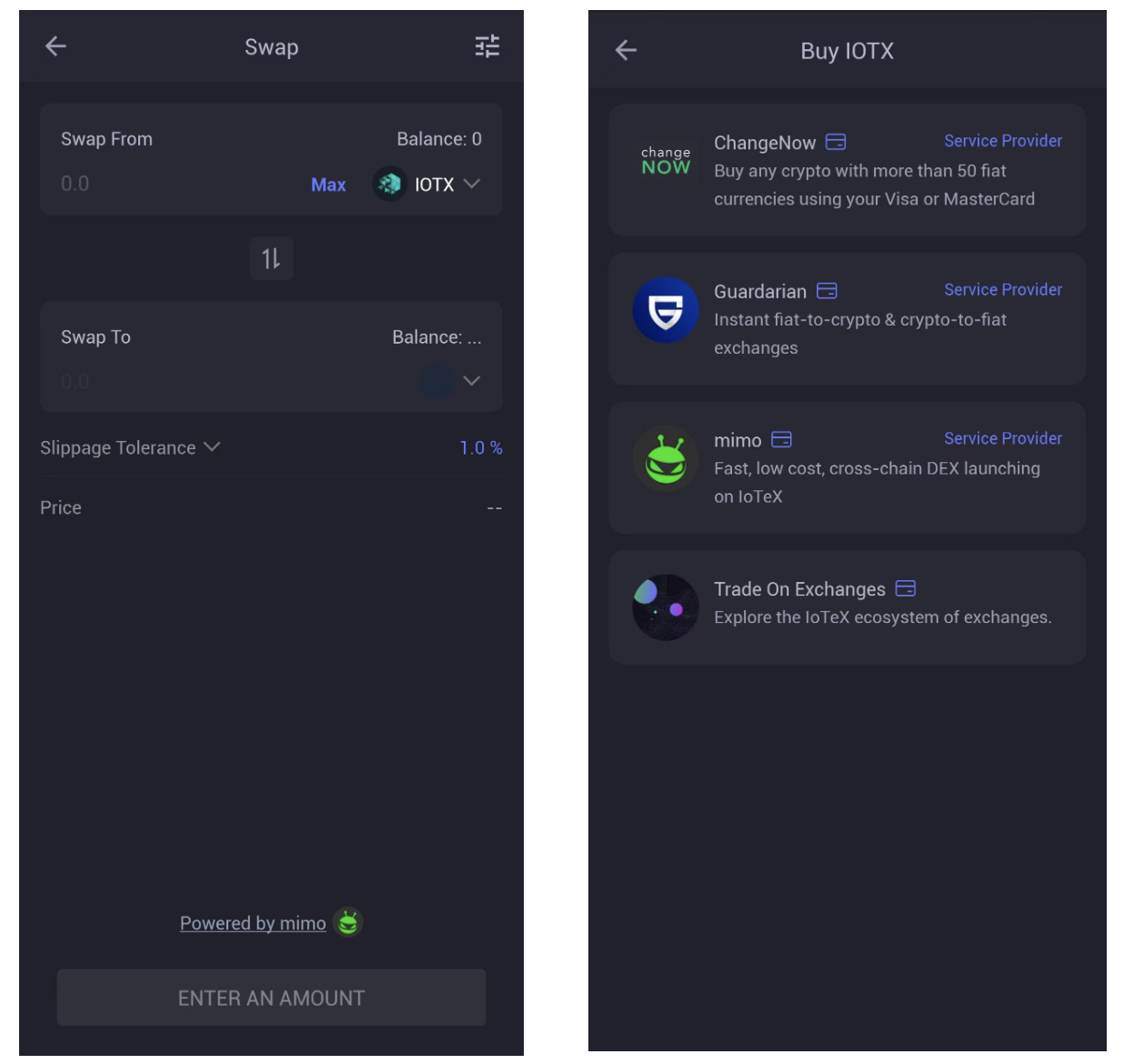 We are also delighted to announce that ioPay will integrate with Mimo's upcoming NFT marketplace. Soon, ioPay users will be able to buy and sell NFTs directly within their wallets through Mimo's NFT marketplace, streamlining the process and promoting wider adoption of NFTs on the platform. We hope to promote the prosperity of the NFT ecosystem on ioPay by making it easy for users to participate in the growing NFT world.
Moreover, project teams launching new tokens or NFTs can also benefit from this deep collaboration, as their tokens or NFTs will be more easily accessible and tradable to a wider user base on the platform. We believe this collaboration will bring tremendous benefits to Mimo Protocol and ioPay users, as well as to project teams launching their tokens or NFTs on the Mimo ecosystem.
We are excited to embark on this journey with the ioPay team. The collaboration between Mimo Protocol and ioPay has already yielded a powerful tool for managing and trading cryptocurrencies. Moving forward, we will continue to work closely with the ioPay team to conduct in-depth research and develop an even more seamless user experience for crypto community and ecosystem projects.
About mimo
mimo is a decentralized exchange (DEX) with automated liquidity on IoTeX. Instead of a centralized order book, mimo utilizes liquidity pools and automated market making (AMM) algorithms to connect buyers and sellers of crypto-assets in a decentralized fashion. Mimo allows anyone to trade or provide liquidity for various pairs of assets, where those that provide liquidity for a specific pool will share the transaction fees for trading.
Twitter: https://twitter.com/mimoprotocol
Telegram: https://t.me/mimogroup
Blog: https://mimo.exchange/blog
Email: [email protected]