Ecosystem Liquidity Boosting with vePICO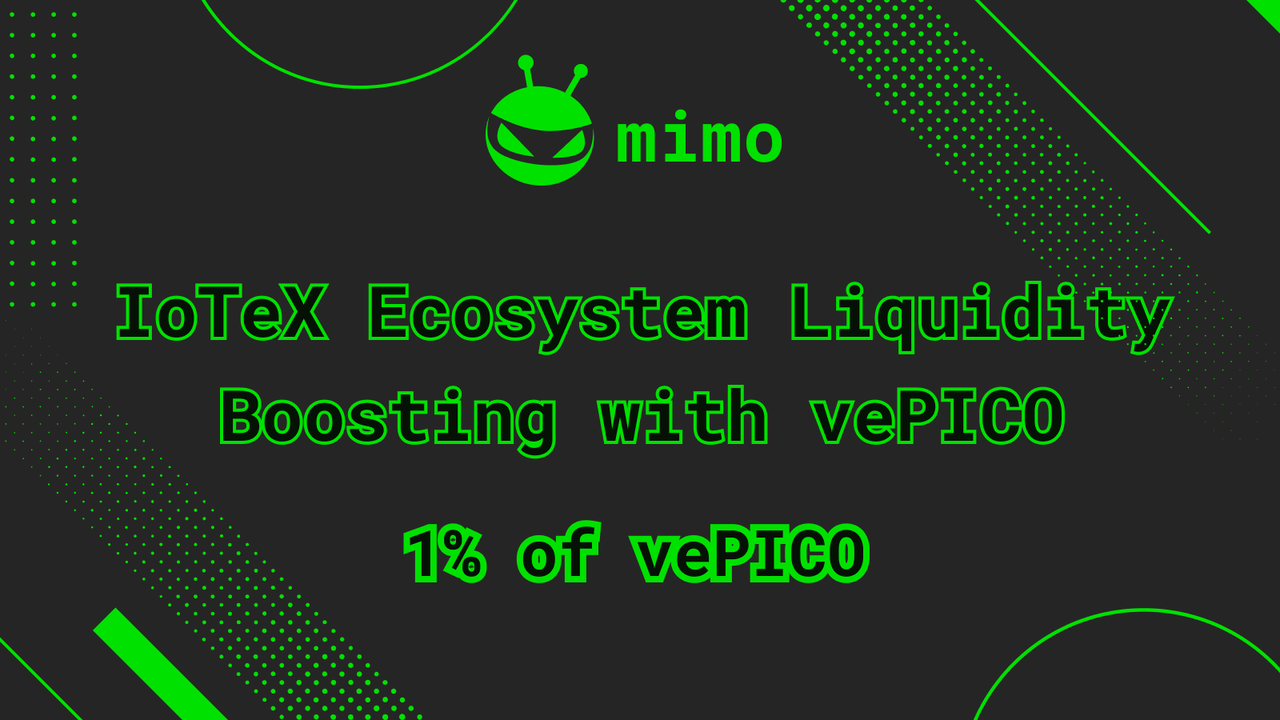 In last week's post, Mimo DAO: Governance Bootstrapping and Launch Plan, we covered
How mimo will create its initial liquidity and constitute the DAO by giving early supporters vePICO
Mining of vePICO by multiple chains
Incentives to bring on and list more projects
Launch campaign timeline and PICO token allocations
In this week's post, we continue to outline how we'll boostrap mimo governance step by step. In specific we'll focus on the ways we'll be offering ecosystem builders a chance to receive vePico.
Why Ecosystem Builders?
With mimo itself being an early ecosystem builder, the mimo team truly understands the vitality of ecosystems that rely on the growth of dApps. We are in the same boat with those ecosystem builders who chose to build natively on IoTeX when there are many other choices of chains to build on.
We value composibility, decentralization and innovation. The goal of this initiative is to kick start and boost the liquidity of ecosystem protocols. Therefore, mimo welcomes more protocols from different chains to join us in tapping into the explosive adoption of DeFi + MachineFi.
What can Ecosystem Builders do with vePICO?
1% of vePICO will be distributed to ecosystem builders in order to promote the long-term growth of the multi-chain ecosystem. By demonstrating their commitment, builders will benefit from several vePICO perks such as directing PICO rewards to their own protocol pools. Additionally, ecosystem builders will have governance voting rights proportional to the vePICO they hold.
How to participate in this initiative?
The rule for ecosystem protocols to participate is straightforward:
The top 10 projects built on IoTeX will get a weighted vePICO distribution based on their average TVL posted by Defi Llama. A snapshot of TVL on IoTeX will be taken periodically. It's up to each ecosystem builder to decide how to best utilize vePICO. Each will decide whether to create their pools and vote for their initial distribution, vote for other liquidity pools, and how they will incentivize the voting by other DAO members.
*Revision1, April 28, 2022
We have received inquiries regarding how TVL and how frequent snapshot will be considered for the campaign. Here we add more clarification to the TVL count by
Considering Pool2 feature (Include staked LP tokens where one of the coins in the pair is the governance token and the other coin is IOTX or mainstream crypto assets like ioBTC, ioETH, stablecoins)
Allowing double count feature (allowing protocols utilizing liquidity from mimo for yield farming, aggregator and other purposes)
Protocol can view their eligible TVL by toggling these features on DeFiLamma which is shown in figure below.
In term of the frequency of snapshot, the team will do the snapshot on weekly basis once the campaign is officially started. And the final TVL count for the protocol will be the average of four snapshots. So let's build, ship and grow early.
When does it start?
The campaign will begin soon and lasts for 4 weeks. The IoTeX TVL snapshot will be taken periodically throughout the campaign period. Everything will be based on DeFi Llama so it's critically important to list your project on DeFi Llama to be eligible for vePICO distributions.
*Revision2, April 28, 2022
We have received huge responses from Web3 builders who are developing and deploying dApps to the IoTeX ecosystem. After consideration, the team decided to revise the campaign starting date to allow some additional time buffer. Instead of starting at April 29, 2022, the campaign will start once all the top ten protocols' TVL exceeds 1 million as stated on Defi Llama. We will make an announcement when the campaign is kicked off.
Summary
So don't delay. If you are currently on IoTeX, keep building and growing your TVL. If you are considering building on IoTeX, take this opportunity to plan for your protocol launch very soon before you miss the mimo governance mining campaign. Our next blog post in this series will explain how we will boostrap mimo governance.